The evangelism of the Lord Jesus, his disciples, Paul, and the early church was bold, public, and confrontational.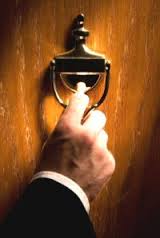 "And daily in the temple, and in every house, they ceased not to teach and preach Jesus Christ." - Acts 5:42
Our Lord commanded his disciples to go into every city and to every house, and to wipe the dust off their feet if their message was rejected. Clearly then they were not just witnessing to those who may receive them well.
Our goal in publishing the gospel of repentance and faith is to sow the seed in as many hearts as possible from now to eternity. There cannot be a harvest if there is no planting, and if we sow sparingly, we shall reap sparingly. Others will reap where we have sown, but God will give the increase and get the glory.
For a powerful testimony of a man who gave his life to do just that, read the testimony of Frank Jenner. Here are some reasons why it is God's will for us to point men to the Lamb of God.
The Great commission is a call to go
The Great Commission is not a call to invite men to church or a special meeting. It is not a call to "build relationships", although there is a place to befriend lost sinners.
Many professing Christians spend all their time building relationships with one or two people, taking years to bring up the heart of the gospel, and in that time span they miss thousands of opportunities to sow the gospel seed.
The Great Commission is a call to go systematically
This command is for the church. A local church that is not systematically evangelizing their community will eventually die.
Where there is no outlet there will be stagnation, which is manifested in indifference, coldness, and eventually death.
It is amazing how many solid Baptist churches are relying on their church sign or website to do their witnessing for them.
The contemporary "churches" have brought in the world to reach the world, and the independent Baptists have done neither. Most have neither brought the world in or attempted to reach it. It is like a sports team that has a pep rally but never plays the game.
We don't assemble just to be fed and worship, we assemble that we might be fed and made strong and sent forth as sheep among wolves.
A new testament church is an evangelizing church. The early church didn't have scheduled weekly times for public evangelism, because everybody, including the pastors, were doing it daily.
"Therefore they that were scattered abroad went everywhere preaching the word." Acts 8:4
The word "preach" there means "to gossip or talk freely". One of the first deacons (Phillip), instead of trying to keep the pastor in check, was headed down to unevangelized towns of Samaria to saturate them with the gospel. Praise God! Until we have that kind of zeal here, our church will continue to call for public evangelism as multiple times per week.
The Great Commission is a call to confront
Paul took this literally when he said in Acts 20:31 that he "ceased not to warn every man with tears." It is a call to preach and teach all men to observe all of Christ's words.
Christ is the one who calls men to discipleship, and it is our duty to teach the conditions of discipleship. We are to instruct them in what it means to completely and utterly follow Christ, without reservation, and how through the scriptures to imitate his life.
If men are not introduced to Christ and made to see how hopeless they are without him, then we will not multiply.
A normal church is a multiplying church. May God stir our hearts to love the Lord Jesus more, that we may obey him more.