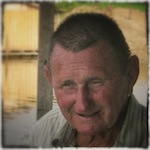 This January marks two years since Kenneth Cates died suddenly in the Amazon region of Brazil - where he had poured out his life as a missionary. These next four posts will tell his life story.
Shortly after Kenneth was saved he gained a great burden for the Amazon people. He kept hearing their cries in his heart and mind - "Come over to Brazil and help us!" He would run out into the woods behind his house and pray, "Oh, God, send a missionary to preach the gospel to them!"
He began to realize God wanted him to go. He felt incapable of the task and promised the Lord, "If you will send someone else I'll give half my paycheck to support them." But God was calling Kenneth.
With the exception of his home church in North Carolina, no other churches would support him. They thought he lacked the education needed. Kenneth's factory co-workers passed around a collection box, raising enough money to buy him a one-way plane ticket to Brazil.
He didn't know the language and had no connections in Brazil. He just knew God sent him. With a one-way ticket and monthly support of $25, he stepped out by faith and boarded the plane to a country he'd never been to.
The rest is history. Kenneth died 46 years later in January 2011. He left behind 14 indigenous Baptist churches, a Bible college, and a testimony that spans Northern Brazil.
How about you? Do you long to be more of a man of faith - to step out boldly into the unknown when all you know is that God is sending you?
Be sure to read the next post in this series, ["Kenneth Cates - A Simple Man of Prayer."](/kenneth-cates-a-simple-man-of-prayer)