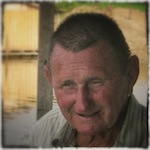 Even in the dead of winter, Kenneth Cates often went out and prayed all night - preparing to leave North Carolina and go to Brazil.
He would light a kerosene heater and seek God - interceding for the Amazon people.
When he got to Brazil he found a place out in the woods where he could walk and pray - alone with God - often through the night.
Up 'til the day he died, Brother Kenneth would walk streets of Manacapuru in the early morning hours, praying over the people of the city.
The Lord let me spend some precious time with him driving him to meetings in 2004. His wife, Valda had just passed away and he was in the U.S. for a few months on furlough.
Every time I picked him up at the little cabin in Saluda, Brother Kenneth would be walking and praying outside. When we got to the church he would walk and pray outside until service started and we went in.
When we went into the churches, sometimes people would snicker when they saw him because he appeared to be such a plain and simple man. But oh what a profound walk with God he had! Those same people would weep when he spoke from the pulpit. People wept in every one of the churches we went to.
Brother Kenneth was never very loud or animated in his testimony. He simply told what great things God had done for him - prayers God had answered through the years. The people wept when they heard of what great and mighty things God had done for him and through him - Unusual, supernatural things that no man could claim the credit for.
Kenneth Cates prayed just like God was sitting right next to him. His tone of voice didn't change when he prayed. He just spoke to God like he knew God was right there with him - listening and ready to answer.
Brother Kenneth had such a purity about him - such patience - such meekness - such kindness - such a sweet Christ-like spirit. Yet his firmness and conviction were rock-steady. He contended for the truth and stood strong against sin. He kept a solid and hopeful outlook even in the darkest of times. Kenneth Cates was the Beatitudes in shoe leather.
I dare say these spiritual qualities could have never been so developed had he not been such a man of prayer. A life full of long seasons with God in secret prayer made Kenneth Cates a Christ-like man.
In January 2011, Northern Brazil lost a great intercessor. Brother Kenneth returned home from his morning prayer walk. A few hours later he was dead from a heart attack.
Even while writing this, I weep at his memory and it makes me want to pray.
Oh for men today to take up the mantle of prayer dropped by this departed Elijah!
Oh for missionaries, pastors, evangelists, fathers, young men - who would spend long seasons alone with God in secret prayer and see how God would use their lives!