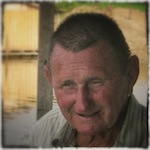 When Kenneth Cates died, the entire city of Manacapuru shut down. The shops closed. They transported his casket on top of a fire truck - their most honorable form of funeral procession, usually reserved for dignitaries. The entire city stood at attention. They had done the same when his wife died a few years earlier.
Kenneth Cates left a mark on the people God called him to
When started out in Brazil Brother Kenneth had a choice. He could live with a middle-class family or a poor family. He chose to live with the poor family. Those were the people he would be ministering to.
There he learned the language and began preaching the gospel.
At first people mocked him and rejected him. They told him to go back home to America. For several years he saw no converts. He felt so lonely sometimes he would climb to the top of a tree just to watch an airplane flying over - dreaming he was on a plane back to America. But he stayed and labored faithfully in Brazil.
Souls began to be saved and he planted the his first church there.
Kenneth Cates left a mark in the States
When people back in America heard Kenneth Cates' testimony, it made them yearn to step out by faith and follow God.
Kenneth Cates left a mark in Northern Brazil
When Brother Kenneth started in Brazil he had no boat to navigate the river. To preach the gospel in some villages he would swim across the river with his bible in his mouth.
He had no flare or polish to his personality and preaching. What he did have was 1 Corinthians 13 love and a deep walk with God. And the people knew it.
Two years after his death the 14 churches he planted are going on strong. Some are small jungle churches along the Amazon River. Some are larger city churches in Manacapuru.
Kenneth Cates Left a Mark for Eternity
Brother Kenneth has gone on to glory to join many of his people from Brazil. He traded the pain of this world for a crown of glory that will never fade away.
Kenneth Cates left a mark on me
I still think about him often and weep when I remember he's gone. His testimony still lives on in my life. It reminds me of the power of one life sold out to God - what an impact it can have!
Dear friend, what kind of mark are you leaving on your generation?
Be sure to read the next post in this series, "Kenneth Cates - Can God Do Today?".