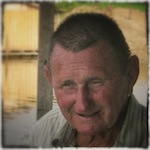 "Can God do today what He has done in days gone by?" That was Kenneth Cates' life saying.
He just believed if God would do great things for Moses, or Apostle Paul, God would do great things for Kenneth. He believed God is the same God today that He was back then.
This gives me great hope. The powerful Christian life is not for a super-gifted elite. It is for every believer who truly desires to walk with God. Even we who are not the most gifted can be mightily used by God if we will surrender our all to Him.
God took a simple man like Kenneth Cates and did more with his life than anyone could have imagined. There are men of far greater intellect and abilities who have never come close to accomplishing what Kenneth Cates did. Their confidence was in their education, their gifts, and their abilities. Kenneth Cates' confidence was in God.
Brother Kenneth always opened his testimony, "Today I just want to brag upon Jesus." He gave God all the glory.
I heard him preach on Moses' rod. How it was just an ordinary stick but it became powerful because it was God's stick. Kenneth Cates was God's stick.
Now that Kenneth Cates is gone, who will fill his shoes? Who will be the one to expect great things from God? Who will spend long seasons in secret prayer - communing with God and interceding for the souls of men? Who will step out on raw faith and unflinching confidence in God? Who will believe God to do for us what God had done in days gone by?
With Kenneth Cates, God used a simple ordinary man to win amazing and supernatural victories on the mission field.
If you'll sell out to God, God will use your life too.