Prayer was a distinguishing brand mark of the early church...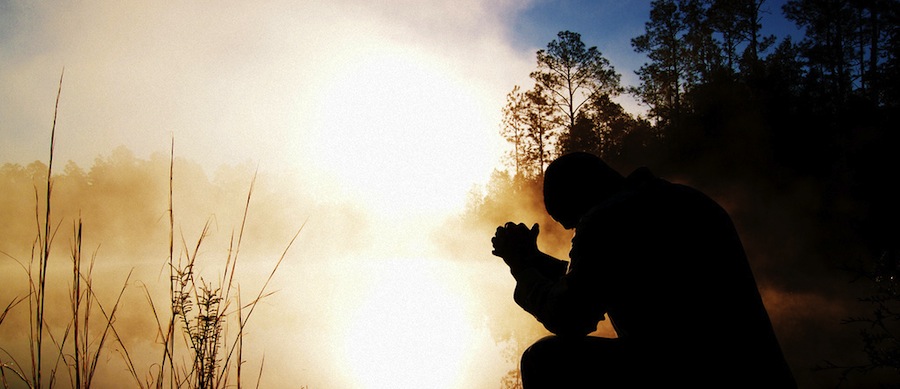 The early church bore three distinguishing brand marks:
Prayer
Public evangelism
Strong doctrine
It seems many churches today have one of these three, but rarely all three. The first distinguishing mark is prayer.
"These all continued with one accord in prayer and supplication, with the women, and Mary the mother of Jesus, and with his brethren." (Acts 1:14 KJV)
What kind of prayer marked the early church?
1. Special Prayer
"These all continued with one accord in prayer…" (Acts 1:14)
The early church was gathered in the upper room for one reason: to pray. They were not there for preaching, singing, or fellowship. They were there to pray.
One of the biggest lies today is "Wed. night prayer meeting" on Baptist church signs. If no emphasis on prayer, it's not prayer meeting. -@GospelFuel
There use to be far more prayer meetings where churches actually met to pray.
In 1845 the Creek Council banned the gospel from the Creek Nation (present day Muskogee, Oklahoma).
Creek Christians caught at prayer meetings would receive 30–50 lashes with a whip. They still met to pray. Many men and women were brutally whipped, yet they would not stop meeting to pray.
I remember a church in NC where the pastor and his men would meet to pray at 7:00 every morning before the men went to work. For years, as many as 30 men met to pray every morning during the work week.
Graders, carpenters, loggers, and preachers, interceded for others, agonizing before God in prayer. I remember seeing the carpet wet with tears as they wept over souls.
Those men had written on a chalk board the names of sinners for whom they continually prayed. During those years God saved about 12 young men in the area. and called them to preach. Some of them were among the roughest sinners in the area. Most, if not all of those men are still faithfully serving God today, some on mission fields. Every one of them were names on that prayer list.
Imagine how much hope there would be for this generation if every pastor faithfully met with their men to pray like that!
2. Corporate Prayer
"These all continued with one accord in prayer and supplication, with the women, and Mary the mother of Jesus, and with his brethren." (Acts 1:14)
Yes, we must maintain secret prayer, family prayer, and continual prayer. But we also need corporate prayer. This is where a local church meets together for one purpose: to pray.
Acts 1:13–14 mentions four groups of people in this prayer meeting:
the disciples
the women
Mary the mother of Jesus
Christ's brethren
The disciples had spent the last 3½ years with Christ, yet they needed to meet for special corporate prayer. So do we.
This prayer meeting was not just attended by preachers. It wasn't limited even to just men. Scripture says they were there praying "with the women".
This group, simply called "the women" were some of most faithful and loyal followers of Christ during His earthly ministry. The women stayed by His side to the bitter end, standing close by His crucifixion even after the disciples forsook Him and fled.
Mary, the mother of Jesus attended this prayer meeting. Her heart had just been pierced with a sword of sorrow (Luke 2:35). These disciples just lost the bodily presence of their Lord, but she just lost her Lord and her son. For Mary, this time of pain and loss was a time to pray.
"The brethren of Christ" were at this prayer meeting. There is no family favoritism in God's church. The very half-brothers of Christ needed to pray. So do we.
3. Steadfast Prayer
"…continued with one accord in prayer…" Acts 1:14
The early church was committed to stay, continue, and persevere in prayer until God answered.
"The early church prayed 10 days, preached 10 min, & saw 3,000 saved. Today we pray 10 min, preach 10 days & see no one saved." ~Unkown

[email protected] April 23, 2014
The Greek word used here in Acts 1:14 for "continued" is used in Mark 3:9 as "wait."
"And he spake to his disciples, that a small ship should wait on him because of the multitude…" (Mark 3:9)
That small ship was not going anywhere until the Son of God stepped on board.
Here the early church was like that little boat. They would not launch out alone into the deep stormy waters of a hostile world system — a world who had just publicly executed the Christ they preached. They weren't going anywhere until His Holy Spirit stepped on board their little boat.
I saw a painting of a Cherokee pastor leading his people in a prayer meeting on the Trail of Tears. They were all bowed down in the snow praying. Their people were suffering and dying. Yet during the whole bitter Removal, these Native American believers continued in prayer. That's steadfast prayer.
4. Intense Prayer
There's a big difference in saying prayers and praying prayers.
The effectual fervent prayer of a righteous man availeth much (James 5:16)
Fervent prayer speaks of a seething, boiling heat. This was no general meal or bedtime prayer. This was not the dull, sleepy, half-hearted prayer we hear so often today.
"Fervent prayer is the soul's contention, the soul struggling with God; it is a sweating work, it is the sweat & blood of the soul." ~Brooks

[email protected] April 23, 2014
"Prayer" speaks of a general term for prayer, or worshipful prayer.
"Supplication" speaks of a petition, a request, or asking God for something.
If we're not asking God for spiritual awakening and a Spirit-filled life, we need not expect it. God has sovereignly designed that whatever we would have from Him, we must ask for it, even if He has already promised it.
God had already promised to send the Holy Spirit, but they had to pray in order to obtain that promise. (see Acts 1:8)
Cherokees called the sport of Stickball "Little Brother to War." They used Stickball as a war alternative to settle disputes between warring tribes and clans. The sport was so fierce several players would usually die in each game, but it was better than hundreds dying in a full scale war.
As those warriors stepped onto the Stickball field to play, image how serious — how intense — how focused they played.
Imagine that warrior straining and striving with every fiber of his being to win that game for his family, his clan, his tribe. That's the intensity with which the early church strove in the war-sport of prayer.
"Then shall ye call upon me, and ye shall go and pray unto me, and I will hearken unto you. And ye shall seek me, and find me, when ye shall search for me with all your heart." (Jeremiah 29:12–13)
Our son is 10 months old. When he cries, I can tell from the nature and intensity of his cry whether he means business or not. The more desperately he cries, the faster I will run to help him. Sometimes he barely bonks his head or drops a toy. He makes a half hearted cry that I don't respond to.
Sometimes our son cries in real desperation, and I can tell from his cry that he's serious. When I hear that cry, nothing can keep me from running to help him.
Our heavenly Father is more willing to answer us than we can imagine. But we must first get down to business in prayer. Desperate, fervent, persevering prayer is the only kind God answers.
5. Unified Prayer
"These all continued with one accord in prayer and supplication…" (Acts 1:14)
The early church was in one place, but also in one accord. Many times, including during the Last Supper, the disciples were in one place, but not in one accord. "One accord" means "one mind." They were striving toward same goal in prayer.
There were women in this prayer meeting who had stood faithfully for Christ during His crucifixion. They no doubt they could have made bitter accusations against the disciples who forsook Him and fled, and against Peter who had cursed and denied Him three times. No doubt they had forgiven them, and there was Christian peace and harmony among the whole church at Jerusalem.
If we would have unity in prayer, we must be willing to forgive and focus on the Lord, not each other.
6. Answered Prayer
"And they were all filled with the Holy Ghost…" (Acts 2:4)
"If you would be endued with power from on high, it must be in answer to your prayers." ~John Brown of Haddington, @swrb [email protected] April 22, 2014
They were filled with the Holy Ghost and "endued with power from on high" (Acts 1:8). How weak, how useless we are without Him, and how much we need His power in all that we do! This empowering will only come in answer to prayer.
Without the Spirit of God, we can do nothing.We are as ships without wind. We are useless - Spurgeon

— Charles Spurgeon (@Spurgeon_) March 18, 2014
The early church saw their prayer answered that day. Suddenly, God lit a fire that Satan and the world have never put out. God is more ready to answer than we are to ask.