You will never know Jesus Christ as Saviour to keep you out of Hell and take you to Heaven, apart from absolute surrender and submission to Him as the absolute Lord of your life…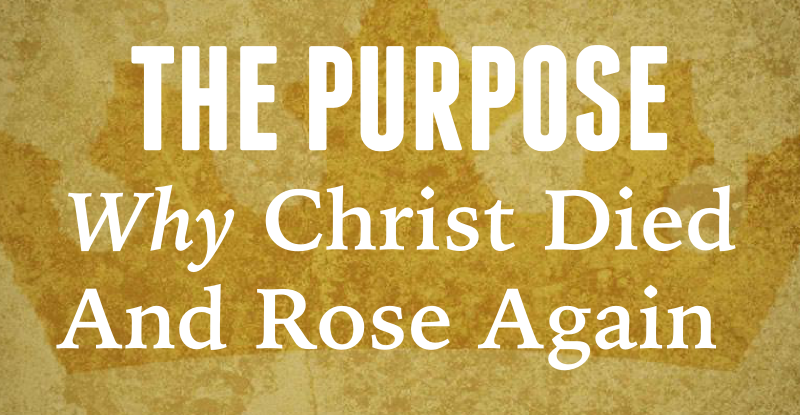 The following is part 3 from a Rolfe Barnard sermon entitled, "The Purpose Why Christ Died And Rose Again."
For to this end Christ both died, and rose, and revived, that he might be Lord both of the dead and living. - Romans 14:9
In the last place, not only has my Lord been appointed and anointed to be Lord over all mankind, by divine decree, not only does He deserve in virtue of His Person, and His blessed death and resurrection to be Lord over all, but the Scriptures teach that He desires to be the recognized Lord over all mankind.
In Hebrews 12:2, it says,
"Who, for the joy that was set before Him, endured the cross, despising the shame, and is set down at the right hand of the throne of God."
That Scripture is a little too deep for this poor preacher. I do not understand all of its meaning. The joy that He was speaking about is to have men and women here on this earth, not because He makes them, but because
He enables them and wins them and overcomes their rebellion and draws them unto Himself, and they give Him their willing, loving service and they confess Him as their Lord, and they live for Him a Christ disciplined life.
You know, my friends, to refuse the Lordship of Christ (and men do it every day; they won't refuse it at the Judgment, but men certainly do it today), and to refuse Him as your Ruler and your Lord now means you will have to spend eternity in Hell.
That old lawless, ungodly cry still goes back to heaven from the hearts and lips of millions every day. "We haven't changed our minds. We will not have this Man to reign over us!" That is not said in so many words, but by your actions you say it. In our actions we would take life from Him if we can, but we do not want His holy Law.
We want His salvation so we can escape Hell; but we do not want to be under His rule. But the Scriptures tell us that salvation means to be married to Him, to be in love with Him, and to be under law to the Lord Jesus Christ.
But today as I speak in this religious atmosphere when men hail Him as their Saviour, but they ignore His sovereign rule and reign in their lives, and thus they prove the Scriptures that say,
"And why call ye Me Lord, Lord, and do not the things which I say?" (Luke 6:46).
That surely will not work.
Matthew 7:21: "Not every one that saith unto Me, Lord, Lord, shall enter into the kingdom of heaven; but he that doeth the will of my Father which is in heaven."
I know this to be true.
You will never know Jesus Christ as Saviour to keep you out of Hell and take you to Heaven, apart from absolute surrender and submission to Him as the absolute Lord of your life day by day!
…That's the reason He died; that's the reason He was raised from the dead, that He might be Lord of the dead and the living. Do you know Him as your Lord to rule and reign over you? You can only know Him when He is pleased to reveal Himself to you.
We are all eternity-bound men and women, and unless Almighty God is pleased to perform a miracle in you and reveal Christ in you, you are doomed for Hell!
"And this is life eternal, that they might know Thee the only true God, and Jesus Christ, Whom Thou hast sent." (John 17:3)
"All things are delivered to Me of My Father: and no man knoweth who the Son is, but the Father; and Who the Father is, but the Son, and He to Whom the Son will reveal Him." (Luke 10:22)
"Seek ye the LORD while He may be found, call ye upon Him while He is near." (Isaiah 55:6).
---
Be sure to follow Rolfe Barnard quotes on Facebook or Twitter, and check out the Rolfe Barnard archive page.
---
This excerpt is from a Rolfe Barnard sermon entitled, "The Purpose Why Christ Died And Rose Again" from the book, The Sermons of Evangelist Rolfe Barnard. Edited by Eulala J. Bullock. Free PDF edition by Grace-eBooks.com.