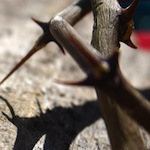 The following is from A Discourse of the Knowledge of Christ Crucified, a sermon from Stephen Charnock.
As a merciful God, he pitied us. But as a holy God, he could not but hate our transgression. As a God of truth, he could not but fulfill his own threatening. As a God of justice, he must avenge himself for the offense against him.
A sacrifice there must be to repair the honour of God by bearing the penalty of the law, which could not be done by the strength and holiness of any creature. All the created force in the earth, and the strongest force of the angelic nature, were too feeble for so great a task.
Justice must have satisfaction. The sinner could not give it without suffering eternal punishment.
He then puts himself into our place to free us from the arrest of justice, and bear these strokes which, by virtue of the law, wrath had prepared for us. The dignity of his person puts a value upon his punishment, and renders it acceptable for us - it being a death superior in virtue to the death of worlds.
It was a death which justice required, and at the sight of it justice was so calmed, that the sharp revenging sword drops out of its hand. God has smelled in it so sweet a savor that has fully pleased him. He can now pardon the sins of believers with the glory of his righteousness, as well as of his grace. He can legally justify a repenting sinner.
God has been served in the passion of the Redeemer. His justice and holiness were glorified and the law accomplished, the honour of God is healed…the justice of God sweetened. By this propitiation for sin, God…stretches out his arms of love, instead of brandishing his sword of vengeance.
He was then wounded for our iniquities, and being cast into the furnace of divine wrath, quenched the flames. As Jonah, the type, being cast into the raging sea, quelled the storm.
He bore our sins by bearing the wrath due to them, and satisfied justice by suffering its strokes.
Does not then a crucified Christ deserve to be known and studied by every one of us?
He, by his blood has secured us from the sword of divine vengeance, if we refuse not the atonement he has made.