Modern evangelism has failed miserably in telling people of the demands of discipleship in following a crucified Savior.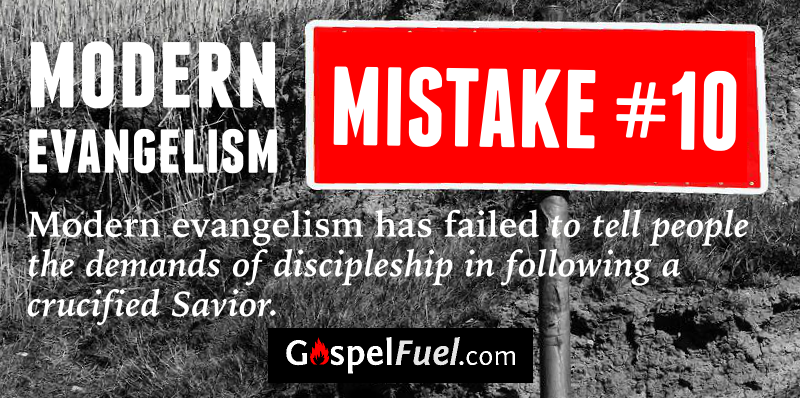 Rather, we paint salvation as all red roses and honey blossoms where your road will be smooth when you come to Christ.
But Jesus said, "Foxes have holes, and birds of the air have nests; but the Son of man hath not where to lay his head." (Luke 9:58)
We offer a Jesus who is a problem solver that once you come to him and "accept" him, you won't have problems anymore: he will fix your finances, he will heal your body, he will bless you with prosperity and health and happiness all your days.
Rather, the Gospel paints a different picture for the Christian. Listen to the words of Christ,
"If any man will come after me, let him deny himself, and take up his cross, and follow me. For whosoever will save his life shall lose it: and whosoever will lose his life for my sake shall find it." (Matthew 16:24-25)
How many preachers did you hear proclaim the doctrine of the cross in the life of the believer? Who is preaching sermons on the crucified life today?
Listen friends, becoming a Christian means everlasting life but it also means a present and daily death.
Death to self, mortification of sins and self-denial. Galatians 2:20 declares, "I am crucified with Christ: nevertheless I live; yet not I, but Christ liveth in me: and the life which I now live in the flesh I live by the faith of the Son of God, who loved me, and gave himself for me."
In other parts of the world, believers who are persecuted for their faith know full well all the implications of following Jesus.
They know that to become a follower of Jesus means at times to lose it all. You may lose your home, maybe your friends, perhaps your family, even possibly your very life.
They have counted the cost in following a crucified Christ. They know that suffering and persecution for their testimony in Christ is part and parcel of becoming a Christian. So, they carefully weigh and count the cost before they make that decision to come to Christ and follow him. We in the West fail to preach up the life of discipleship for a new believer in Christ.
The Apostle Paul describes the Christian life as enduring hardship like a soldier or striving as an athlete who strives to gain a victory, as a farmer who labors dutifully and hard to bring forth fruit from the ground.
The cross in the life of the believer must be preached once again.
Listen friends, these ten great mistakes of modern evangelism have done more hurt than good. We must faithfully preach the full counsel of God. We must preach the Gospel in its purity and proper order.
We must preach the great doctrines of ruin, redemption, repentance and regeneration. We must warn sinners about an everlasting and burning hell that is prepared for all who die in their sins apart from Christ. We must awaken a sinner to his lost condition before we present the remedy, the great pearl of great price. We must preach up the Lordship of Christ and show mankind the utter strictness and severity of God's holy law.
Perhaps the next generation of young preachers will be wiser than this generation and preach alarming messages to awaken the conscience to allow the Holy Spirit to convict of sin.
Perhaps the next generation of preachers won't fear man and preach "peace, peace" when there is no peace for the wicked. Perhaps this next generation of preachers will be wise enough to tarry until they are endued with power from on high so they will have unction and authority and enter a pulpit with the mantle of authority on them when they preach the great doctrines of the Gospel. Oh, we need a revival in our land today but let the revival begin in our pulpits in the land.
Oh, pray that our pulpits will have a Holy Ghost revival. We need a revival of sound preaching. We need men on fire for God and who live for eternity. O God, send us such men for this hour, I pray.