Modern evangelism has failed to preach the Gospel in its purity and proper order in preaching the doctrines of ruin, redemption, repentance, and regeneration.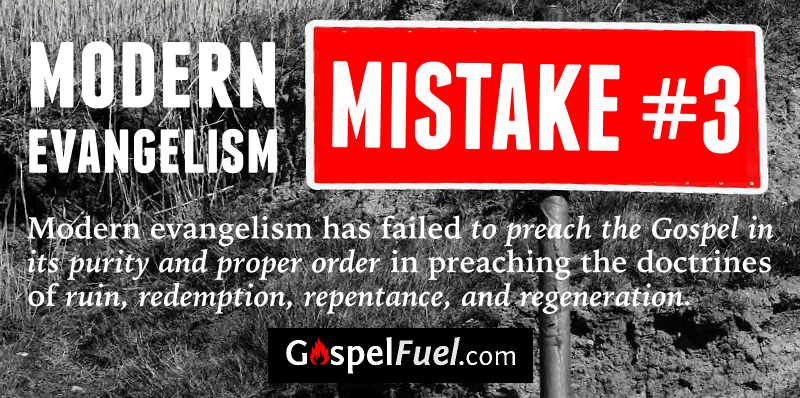 Men like Jonathan Edwards and Asahel Nettleton knew better than most of us today. They knew that the Gospel must be proclaimed in its purity and proper order.
God must be first magnified and exalted.
The law must be preached to show man that he's a ruined sinner under a curse and unable to help himself or alleviate his misery. A man must be awakened to his lost condition and perilous position outside of Christ.
The only way to be reconciled back to an offended God is through the blood of Christ resulting in a repentant and humble heart.
We fail today to preach up the great doctrines of ruin, redemption, repentance and regeneration. The Puritan fathers knew better than these men today, for they knew that there was a preparatory work in the sinner's heart by the Holy Spirit who acted like a surgeon, bringing conviction and compunction upon the sinner's heart —conviction of sin and an awareness of sin.
Compunction is when God brings a sinner to a place of humility over his sins and offending a holy Creator. Study the works of Thomas Hooker, John Shepherd and Solomon Stoddard to learn more about the preparatory work in the process of salvation.
We, today, have made numerous false converts because of our great ignorance of how the Spirit of God works upon the sinner's heart in the act of salvation.