Modern evangelism makes false converts by mistaking a physical act like walking an aisle and repeating a prayer as true conversion.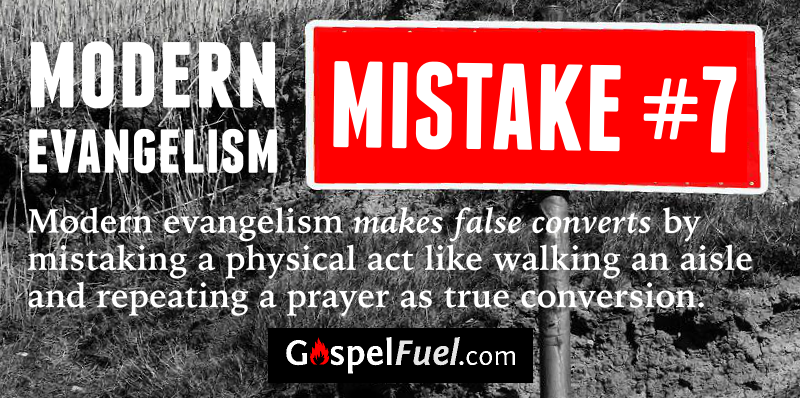 Conversion is not something we do. It is something that God does for us. God changes the heart of stone into a heart of flesh. Conversion is when a lost sinner experiences change. He is a new creation. God has given him a new disposition of holiness through the Holy Spirit.
We are not converted by walking an aisle or reciting the Sinner's Prayer. I can't even find that in my Bible.
Our great mistake in today's evangelism is when we see a person do some physical act like that, we then walk up to them, slap them on the back, shake their hand and tell them they're now saved and a Christian. But God says otherwise. In Titus 3:5 we read,
"Not by works of righteousness which we have done but according to his mercy he saved us by the washing of regeneration and renewing of the Holy Ghost."
True conversion occurs when a person has a principle of spiritual life implanted within by the Holy Ghost. The implantation of this divine principle is called regeneration and it is a supernatural act of God done in a person whereby a sinner is actually turning from the power of sin to God. It's a principle of life which gives one spiritual knowledge of divine things.
True conversion means a very great change has happened in a man. The whole temper of the heart is quite altered and when the saving change takes place, a man has a new appetite. He has new appetites for spiritual things and things of eternity, for the Spirit of God has affected a change within the person giving him a new disposition which is described by the following verse from 2 Corinthians 5:17,
"Therefore, if any man be in Christ he is a new creature, old things have passed away. Behold, all things are become new."
He is now savingly united to Christ and has entered a vital union with a living Lord. But much preaching today just doesn't cover what true conversions is. You can just listen to some men in the pulpits and though they have a degree from a seminary, they lack the understanding as to how God saves a person by doing a work which is wrought of God upon the heart.
Our error is that we foolishly tell people they are saved when we have no clue as to their true spiritual condition. Listen brother preacher, only the Holy Spirit can tell a person they are now saved.
D. L. Moody knew better than the rest of us. The main reason Andrew Bonar agreed to work alongside and support Moody in his British campaign was the fact that Moody taught his workers the following:
"Listen, when you meet with an inquirer in the Inquiry Room never, ever tell that person they are saved. Only the Holy Spirit can do that."
You see friends, Moody knew better.
We base our judgment of their eternal security on a faulty system of them performing a physical act we have asked them to do. We ask them to walk an aisle or repeat a prayer and then we tell them, "Welcome to the family of God. You are now a Christian." When in reality, they may be joining the church because they are lonely or they may be joining the church to make business contacts or they may be joining the church because they just made a mere intellectual assent to an easy-believe gospel and not entering into an experiential knowledge of Jesus Christ whereby they're washed in the blood and born from above.
Let's not tell people that they're saved. Let the Holy Spirit do that.
That's His job. The Bible in Romans 8:14-16 declares, "For as many as are led by the Spirit of God, they are the sons of God. For ye have not received the spirit of bondage again to fear; but ye have received the Spirit of adoption, whereby we cry, Abba, Father. The Spirit itself beareth witness with our spirit, that we are the children of God."
Our job is to preach the full counsel of God, call men and women and boys and girls to repentance towards God and faith in Jesus Christ, then let the Holy Spirit do His work.