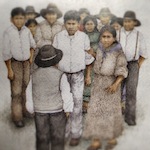 A story of a Christian mother's love for her lost son was recorded long ago.
This story took place during the time when the chief of the Choctaw tribe served somewhat as the governor of a state or as a judge. In addition they had their own senates and lawyers who helped in legislation concerning the tribe. In the early days they had no jails. The Choctaw's word was as good as his bond.
The story began when a young man, while drunk on liquor, killed his best friend. By process of the Choctaw court he was convicted of murder and sentenced to death by execution. He was given ten days in which to settle his affairs before returning to be executed. His was to be one of the last executions under tribal law before tribal law was terminated.
On the day before his execution a great crowd had gathered. Among the crowd were some of the young man's friends who begged him to take his fastest pony and to go to Arkansas or Missouri and wait for tribal law to be terminated. The young man was outraged by such a suggestion and replied:
"No, there's never been a Choctaw yet who defied his own laws or who's been called yellow." (A Choctaw cannot stand to be called a coward.)
On the appointed day the young man arrived to be executed. A few minutes later his mother came in. Her hair, it is said, had turned white in the past ten days as she had been dealing with what seemed like the certain death of her son.
The young man's mother appealed to the chief and the tribal council for a pardon but the answer came back:
"No, the decree of the court has been given."
Desperate to save her son's life the mother approached the chief again by saying:
"I am an old woman. You see the wrinkles on my brow. Spare his life and let me die for him. He is not a Christian. I am."
The chief said,
"I've never known such willingness to sacrifice oneself for another."
We are told that this mother was permitted to die for her son that he might live.
The Scripture says in John 15:13,
"Greater love hath no man than this, that a man lay down his life for his friends."
Jesus' love is far greater than the love of a mother.
Jesus displayed His love by giving His life for the salvation of sinners.
---
Copyright © 2008 by Global Bible Society.
Text and Illustrations.
Published on GospelFuel.com by permission.
For printed copies write or phone:
Global Bible Society
P.O. Box 6068
Asheville, NC 28816
Phone: 1-800-252-8896